Just occurred to me: some of you may wonder, "Where does the name 'Strings' come from?". Then again, maybe not... but I'm gonna explain it anyway... :P
WAY back in elementary school, we could start learning to play an instrument in 4th grade (orchestra only: band came the following year). I wanted DESPERATELY to try violin, but was told my grades weren't good enough. Unfortunately, not knowing what the carrot tasted like, I didn't really push it...
The following year, we had moved from Illinois to California, and I got to start my "musical career"... playing clarinet. See, we didn't have all that much money, and my brother owned a clarinet that he graciously allowed me to use. And I promised myself right then, that any child connected to me would be able to learn whatever instrument they wished. Here's most of the result of that promise: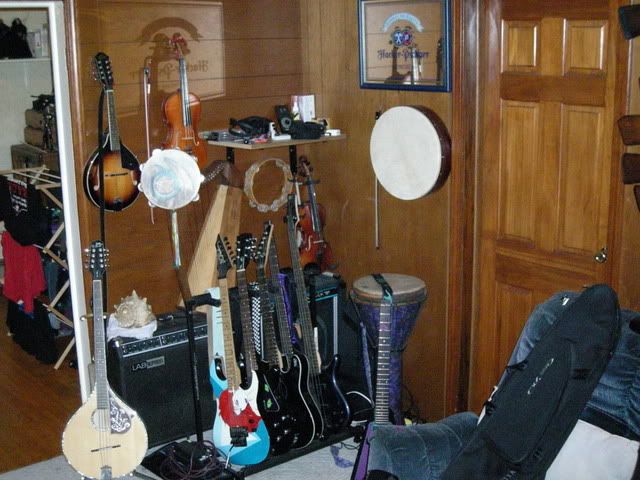 Now, that's not where this story ends. When we moved to Wisconsin, I gave up the clarinet for the trumpet. And I discovered something: I HATE playing brass. So that didn't last too long, and I switched to something not offered: guitar (and by extension, bass)...
If you look in that picture, there's a one-of-a-kind custom B.C. Rich Gunslinger (she does NOT leave the house very often), a Gibson Paul II (that's the cat's eyes you see), a Kramer/Ferrington acoustic/electric, a Steinberger bass, an Ibanez Soundgear bass (the basses technically belong to Spoon though), and my Steinberger six-string (my travel guitar). My amp's the closer of the two. The harp, bouzouki (at far left), mandolin, tambourines, and klong yaw (that's the purple drum on the right) are all mine. Not in the picture is the second mandolin, Spoon's acoustic bass, and a couple other hand drums...
Oh... that violin in the far back? That's Ray's (not that she plays it). The viola is also Spoon's...
So... does that explain where I came up with the name "Strings" well enough?