Well, I'm about to hit my rack here, mainly because we had a chapter fundraiser Saturday that took a LOT out of me.
Someone came up with the bright idea of a bikini bike wash. I figured this would be cool. I put one of our boys in charge of it, to see if he could pull it off. For the most part, he did.
Although plans for a bunch of girls turned into just 2 showing up, those two had almost too much fun.
A member of another organization I'm part of, the US Forces Veteran Riders offered service as DJ for this. And a couple members of ABATE came out to show support.
Here's a group shot from the day. From left to right: Spoon, Reign (Bikini Girl 1), me, Tinker, Miney, Scary, Chumley, Darb (our DJ from USFVR), Holly (Bikini Girl 2), and Mike (from ABATE).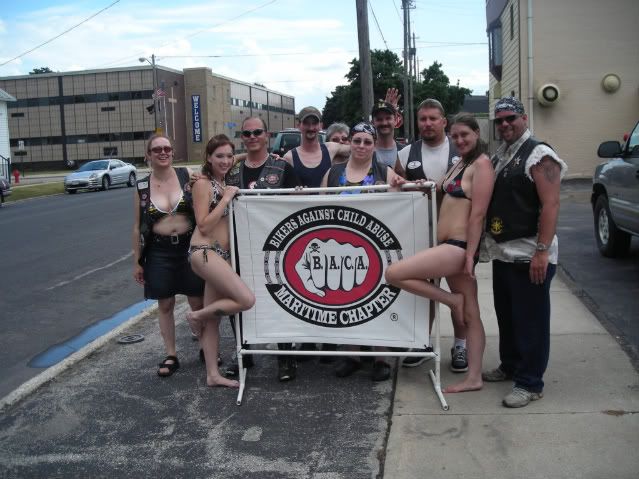 Squeaker was present for a little while, but had to leave for work. We also had another potential SSM (Jazz), and another ABATE member (Schnieder), as well as Mike's wife (who took the pic)
Now, understand: I knew the girls were going to be fairly relaxed about being ogled (they're dancers). But I wasn't kidding when I said they had too much fun:
And here's how they spent the day (when they weren't getting into water fights):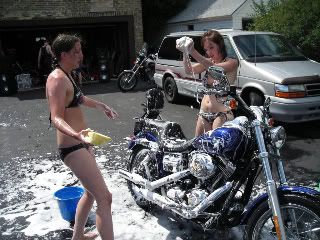 -----------------------------------------------------------------------------------
Financially, the event was (pardon the pun) a wash: not enough advertising, and not enough girls. But we learned some valuable lessons, and (just maybe) will get another member or two out of the deal.
When you can do that while ogling beautiful ladies, I call it "win-win"... :D