In this case, the problem is with the former. Or rather, the big thing under the hood that moves the tires.
Y'all every hear of an "interference engine"? Seems that there are a bunch of cars out there with 'em. Guess it's a good design, although it has a teeny lil' drawback: if the timing goes, bad things can happen. Like this: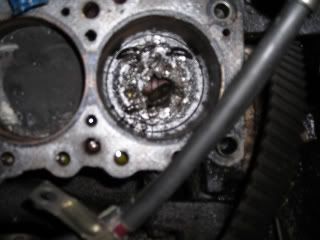 Just in case you can't tell, that's a hole in the cylinder, with the valve actually welded in the hole.
The other cylinders don't have holes. Hmmm...
Betty's getting a new heart put in, even as I type this. Which is sad: I probably could have gotten a new bike for what that transplant is costing me... :(