So... cruising through Auction Arms, looking at Arisaka's for shits & grins. Found
this
listing, and thought "not bad". Then I looked more closely at the pics: in fact, this pic: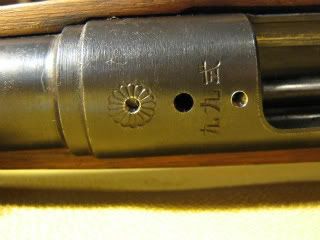 That would be an Arisaka Type 99, with a full chrysanthemum. You know: the symbol that was supposed to have been removed or defaced before bringing the rifle back from Japan. The crest that, if intact, makes the weapon worth FAR more...
Bubba here needs to have his thumbs removed, before he destroys any more collectibles.
I'm gonna go cry now...