Ok... before I ever got on 2 wheels without a bucket, I needed a decent set of shooting glasses that could accept a prescription. I did plenty of research on several boards, but it seemed that every variation would involved an expenditure of several hundred dollars.
Then, I discovered
Rudy Project
. They have a system in several of their lines that uses a prescription clip in the frame, leaving the different lenses straight. Which, needless to say, reduced overall price considerably!
I picked up a pair of Ekynox (no longer available, but can be found on Ebay), and fell in love with them. Lens swapping was easy, they had great field of vision, and were stylish. Heaven!
Then, I decided I wanted to ride sans bucket: this means finding a way to protect your eyes. Well, no problem: there was a goggle system for the glasses I already had. And they worked like a charm, completely sealing my eyes from the dangers of windborn debris (and bugs).
When I went to work for Freedom Roads, I contacted Rudy Project about advertising with us. And they sent me a pair of new glasses/goggles (their
Guardyan
) for review. That review was written within a week but, sadly, the magazine was closed down before publication of the review...
It's been a few years now, and I've worn that set of specs almost daily during riding season for all those years. I looked over the review I originally wrote, and decided to completely rewrite it.
To start off with, the package had almost everything I needed: was missing the prescription clip, which I ordered fairly quickly. Inside the hard case was the frame with regular temples in place, smoke black lenses, goggle strap, and counter mask. As straight-up sunglasses, they were good: switched over to goggles, they quickly replaced my Ekynox!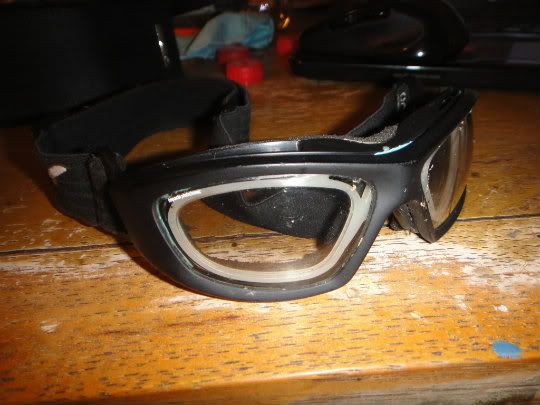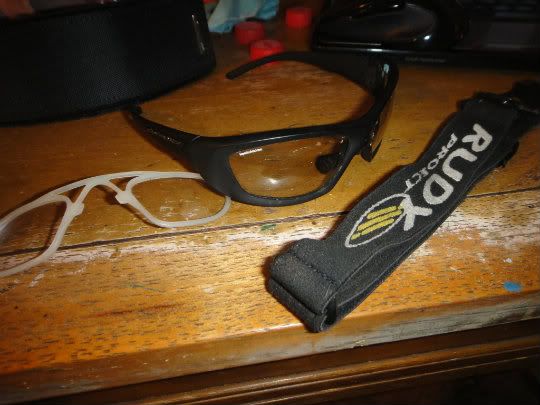 Comfort is awesome: I often forget I'm wearing them, especially with the addition of photochromic lenses (another Ebay find). Periphiral vision is not QUITE as good as with the Ekynox, but I have yet to have had any problems.
But how well do they hold up, you ask?
Well... I received these in midsummer of 2008. Since that time, they've been worn as goggles almost every day of each summer (I tend to forget I have a car during riding season), and often as shades during the winter. THE only problem has been the counter mask. The mounting tabs in the bridge broke off during the first year (rough handling, my fault). This season, the foam rubber has started to give up the ghost. And, in rain, the vents at the top of the mask allow WAY too much water in.
Even with those problems, these are probably one of the best sets of riding goggles I've yet to see. The lenses are incredibly durable, and Rudy Project has a replacement program. Given the easily removable prescription clip, they can be used as loaners for folks who have good vision (or those who sometimes wear contacts). And switching between goggle and glasses takes roughly 30 seconds.
The only changes I could see making would be to use a closed-cell foam or similar, in place of the open-cell. And eliminating the top vents. Otherwise, it seems they've come up with the perfect riding goggle.
If you're in the market for riding or shooting glasses, especially if you need interchangeable lenses and/or prescription, look into Rudy Project: you won't be disappointed!